Komotini Municipality announces the distribution of TEBA aids
The Municipality of Komotini announced that the TEBA aids that were supposed to be distributed to low-income citizens for this month were successfully distributed to their beneficiaries.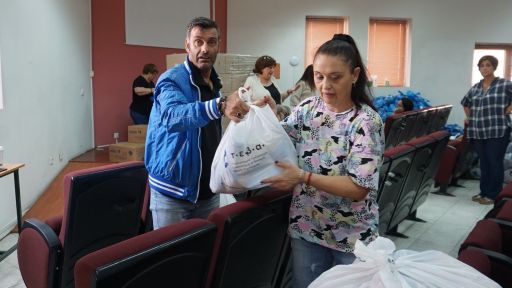 The Municipality of Komotini distributed food and cleaning products for this month between 4-6 September to the citizens entitled to food aid under the Operational Programme for Food and Essential Supplies Assistance for the European Aid Fund (TEBA / FEAD).
The municipality made a statement on the distribution of TEBA aids to the beneficiaries. The distribution process was successfully completed, 1550 beneficiaries received food and cleaning products, while 37 beneficiaries in poor health and elderly people received the products at their homes by the municipality staff.
During the distribution process by municipality employees and volunteers, the products were given to the beneficiaries by complying with all the health measures envisaged.
Deputy Mayor for Social Affairs and Solidarity Yiannis Mourtidis, who coordinated the distribution, was also present during the distribution of the products.
The statement said that the staff of the Community Centre of the Roma Branch of the Municipality of Komotini, the staff of the "Home Help" programme and the staff of the Social Services Unit contributed to the preparation and distribution of the TEBA products to the beneficiaries.