Şentop: We will always follow the Western Thrace case
Sat, 15 Apr 2023 9:31 GMT
Pointing out that they closely follow the problems of Western Thracian kinsmen, Şentop stated that they will always follow the cause of Western Thrace.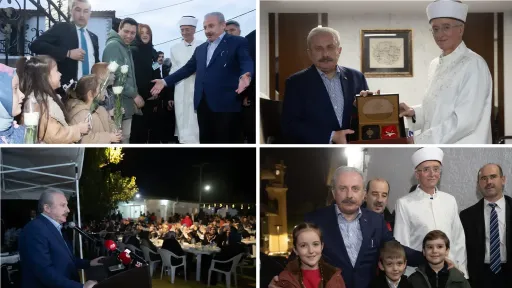 Mustafa Şentop, President of the Grand National Assembly of Türkiye, paid various visits in Western Thrace within the scope of his Western Thrace contacts.
Within the scope of his visit to Western Thrace, Şentop attended the iftar programme in Koyunköy of Xanthi after his visit to Komotini.
In his speech here, Şentop said that he was happy to break the fast with his kinsmen and added: "I bring you the greetings of our President Mr Recep Tayyip Erdoğan from the motherland. Today is the 23rd day of the month of Ramadan, that is, we are approaching the end of this blessed month, the beginning of which is mercy, the middle is forgiveness, and the end is salvation from hell. We are also in the days when Kadir Night, which is heralded to be better than a thousand months, is hidden."
Şentop stated that they spent Ramadan in bitterness and sadness this year due to the earthquakes in Türkiye.
Explaining that they remembered the earthquake victims in every iftar and sahur, Şentop continued as follows:
"The deep pain we feel for tens of thousands of our citizens who lost their lives in the earthquake disaster we experienced in Türkiye is still tugging at our hearts. I have actually been to the earthquake region several times during Ramadan, and I even had my first iftar with our earthquake victims in Hatay. I saw their faith and their resilience closely. However, I cannot go without saying that the bitterness in our hearts will not go away and we will not be able to relax until all our earthquake victims reach a permanent residence where they will be housed in peace and tranquility. Inshallah, we will work non-stop to realise this."
Şentop emphasised the importance of the sincere support and assistance provided by Western Thracian cognates and the Greek government and thanked especially the cognates for their assistance.
Stating that Türkiye also thanked all Greek people, Şentop said, "We will not forget this helping hand extended in our difficult day. Türkiye's friendship is precious and worth preserving. We have been in solidarity with the Greek government and people after the catastrophic train accident that occurred on the night of 28 February in Greece and caused the death of nearly 60 people. On this occasion, I convey my condolences once again."
Şentop said that in recent months, a diplomacy of solidarity has been displayed with Greece and that they have mutually cancelled military exercises and activities in the Aegean Sea and the Eastern Mediterranean.
Emphasizing that they wish to advance relations with Greece on the basis of a positive agenda and a sincere and constructive dialogue, Şentop noted the following:
"We expect the current course of our relations with Greece to reflect positively on the minorities, which we see as a bridge of friendship between us. We have been doing our part in this regard for a long time. We have taken important steps in recent years to improve the situation of the Greek-Orthodox minority in Türkiye. It is natural that we expect these constructive steps to be reciprocated for you, our dear brothers and sisters belonging to the Turkish Minority of Western Thrace. In recent months, the people and government of Greece have demonstrated in the most beautiful and sincere way how close they can stand to the Turkish people. We hope that this manifestation of sincere friendship will soon have a positive impact on the advancement of the rights of our compatriots. As the Turkish Minority, we expect you to be free in the expression of your ethnic identity, to be free in the fulfilment of your religious obligations at a level befitting a member state of the European Union, and that the problems you have been experiencing for decades in the field of education will now be resolved."
Pointing out that they closely follow the rights and laws, freedoms, deprivations and troubles of Western Thracian cognates, Şentop stated that they will always follow the Western Thrace cause.
Underlining that it has been proved that a positive relationship can be established between Greece and Türkiye despite the ongoing problems, Şentop emphasized that they wish to solve the existing problems through a constructive dialogue on the basis of international law.
Pointing out that the Turkish compatriots from Western Thrace constitute the most important dimension of the relations between Greece and Türkiye, Şentop said: "With the awareness that Türkiye will always stand behind you, we wish you to walk with confident and proud steps to a prosperous future."
Referring to the Israeli attacks in Palestine, Şentop said, "Israel's attacks on our Muslim brothers and sisters who have no other purpose than to worship in peace in Al-Aqsa and who are trying to fulfil this blessed month are essentially targeting all Muslims. Unfortunately, the international community has been ignoring Israel's attacks in Palestine, which have been going on for years, trampling on international law. Israel sees this as a green light, a permission, and increases the dose of its violations day by day."
Emphasising that the international community ignores Israel's attacks in Palestine, which trample international law underfoot, Şentop stated that as Türkiye, they stand by Palestine and condemn Israel's provocative attitude, which aims to condemn the issue to insolvency.