Yom Kippur raid on Al-Aqsa Mosque by fanatical Jews
Mon, 25 Sep 2023 9:38 GMT
Fanatical Jews under the protection of Israeli police raided the Al-Aqsa Mosque in occupied East Jerusalem under the pretext of "Yom Kippur".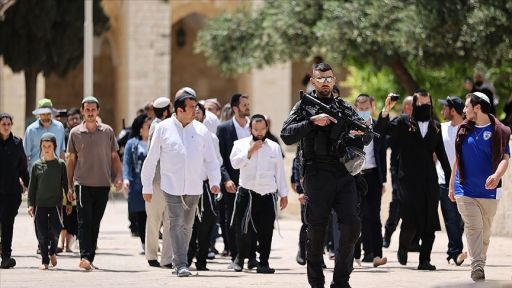 In a written statement made by the Jerusalem Islamic Endowments Administration, it was stated that 317 fanatical Jews raided Al-Aqsa Mosque in groups under the protection of Israeli police since the morning hours.
According to eyewitnesses, Israeli police set up checkpoints in the Old City of East Jerusalem during the raid and did not allow Palestinians to enter Al-Aqsa Mosque.
Some of the fanatic Jews also organised a ritual in front of the gates of Al-Aqsa Mosque.
Millions of Jews in Israel celebrate Yom Kippur, the holiest religious holiday of the Jewish people, on 24-25 September, which means "Day of Atonement".
Jewish settlers increase their raids on Al-Aqsa Mosque during religious festivals.
According to the peace treaty signed between Israel and Jordan on 26 October 1994, the Al-Aqsa Mosque is under the auspices of the Jerusalem Islamic Endowments Authority under the Jordanian Ministry of Endowments, Islamic Affairs and Sanctuaries.
However, since 2003, Jews have been entering the holy shrine without the Authority's authorisation and with the unilateral decision of Israel, accompanied by police. Describing these entrances as raids, the Jerusalem Islamic Endowments Authority emphasises that Muslim sovereignty is violated.
AA