Mufti of Xanthi Trampa continues "Loyalty to the Gentries"
Fri, 14 Apr 2023 10:57 GMT
"Loyalty to the Gentries" project carried out by the Mufti's Office of Xanthi is underway.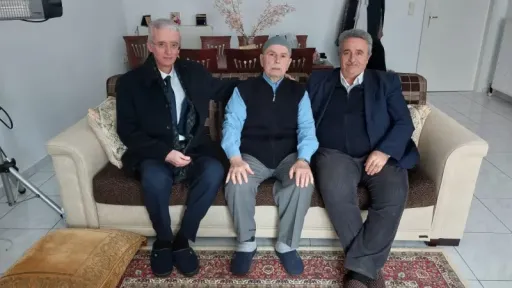 Within the framework of the project "Loyalty to the Gentries", Mustafa Trampa, Mufti of Xanthi, and Ahmet Hraloğlu, Deputy Mufti, visited Huseyin Kahya at his house in Xanthi on Friday 7 April 2023. 
Born in 1940 in Memkova village of Ilica and spending his life in the struggle for the cause of Muslim Turks in Western Thrace, Hüseyin Kahya briefly described his ordeal as follows:
"I was born in a poor family in Memkova in 1940. Our childhood was an ordeal. When I was in the second grade, there was a civil war between 1947 and 1949. The rebels, in other words the andarts, raided our village. We lived days full of fear. Migration to a safer place started. Our village migrated to Şahin. People here opened their houses to us. They gave one of their two-room houses to the migrant family. It was as if the time of Muhajir and Ansar in Medina in the time of our Prophet was revived. We stayed in such a family as muhajir for two years. In the meantime, I attended primary school here. I took lessons from the famous Hüseyin Hacıbedel Efendi, who graduated from Istanbul Daru'l-Funun Madrasah. 
After two years we returned to our village. After that, two years of famine followed. We had very difficult days. I completed primary school, but due to poverty I could not continue my education immediately, but after four years I went to the Sahin Madrasah. This was thanks to my friend Cemil Huskoglu. He went to madrasah normally because he was better off financially. Every time he came to the village, I was impressed by his change, his attitude. I wanted to be like him. Finally, when I was 17 years old, without informing my father, I went with my friend Cemil Hodja to Şahin Madrasah as an illegal. When I was in the third grade, I had to go to the army.
My first duty station was Salıncak village. I worked as an imam and teacher for a year. Then, upon the insistence of the people, I started to work at the Second Minority Primary School in Xanthi. However, even though there were Turkish lessons in the programme, Turkish lessons were being prevented. One day while I was teaching in the classroom, the inspector raided. When he saw that I was speaking Turkish to my students, he said "I caught you red-handed". When he said, "You are teaching Turkish", I showed him the programme. When he said, "Look, there is a section called Turkish in the programme", he left. I was disciplined and my teaching adventure in this school was over.
I went to Germany to work in a textile factory for six years. When I returned from Germany, in those years there was a founder system in primary schools. Upon insistent offers, I became the founder of the 2nd Minority Primary School in Xanthi. However, due to some practices I opposed, I was dismissed from this position after a short period of six months."
In the statement made by the Mufti's Office of Xanthi, it was stated that Hüseyin Kahya served as Imam of Gazhane from 1964 to 1973, Ramadan teacher in Höyükköy in 1964, reserve imam from 1973 to 1978, Imam and Qur'an Course teacher in the opposite neighbourhood of Xanthi from 1978 until 2007 when he retired.
The statement also read: "Our teacher Hüseyin Kahya continues his life in peace by retiring in his house in Xanthi. He expressed his gratitude to our Mufti Mustafa Trampa for the book "The Mosques and Masjids of Xanthi" which he presented to him."