President Erdoğan receives Prime Minister Mitsotakis
Thu, 21 Sep 2023 12:02 GMT
President Recep Tayyip Erdoğan received Greek Prime Minister Kiryakos Mitsotakis.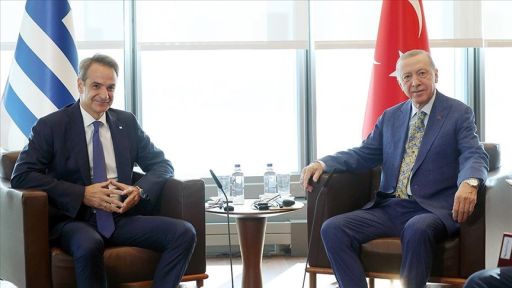 Erdoğan, who is in New York to attend the 78th General Assembly of the United Nations (UN), continues his contacts at the Turkevi.
Turkish President Erdoğan received Greek Prime Minister Mitsotakis within the scope of his bilateral contacts. The meeting was closed to the press.
It was reported that during President Erdoğan's reception of Mitsotakis, the two leaders confirmed the current positive climate in Turkey-Greece relations and their determination to maintain it.
Statement from the Directorate of Communication
In a statement released by the Turkish Presidential Communications Directorate, Turkish President Erdoğan and Greek Prime Minister Mitsotakis met with the participation of Foreign Ministers Hakan Fidan and Yorgo Gerapetritis in New York within the scope of the United Nations General Assembly.
In the statement, it was reported that the two leaders confirmed the current positive climate in the relations between Türkiye and Greece and their determination to preserve it:
"The leaders also confirmed the roadmap and timetable for contacts between the two countries agreed at the Foreign Ministers' meeting in Ankara on 5 September, including the following elements. Accordingly, the mid-October meeting of the Deputy Foreign Ministers responsible for political dialogue and positive agenda, the Confidence Building Measures meeting in November and the Turkey-Greece High Level Cooperation Council meeting to be held in Thessaloniki on 7 December will be implemented."
Migration
The two leaders also exchanged views on regional and international issues, the statement said:
"In particular, they discussed the phenomena of natural disasters and the climate crisis in the Mediterranean region, which have greatly affected both countries in the recent past. The two leaders agreed to strengthen bilateral cooperation in the field of civil protection as a high priority.
Recognising that migration is a common challenge for both countries, they agreed to work together to address this issue. The Foreign Ministers have been tasked to continue working and co-ordinating to take forward the agreed roadmap."
On the other hand, President Erdoğan shared on his X social media account, "May the meeting we held with Greek Prime Minister Kiryakos Mitsotakis at the Turkish House be auspicious for our country and our region."
It was reported that Ambassador Akif Çağatay Kılıç, Chief Advisor to the President of Turkey, was also present during Erdoğan's meeting with Mitsotakis.