Bulgarian President organizes iftar for Muslims
Fri, 31 Mar 2023 9:06 GMT
President of Bulgaria Rumen Radev hosted the traditional iftar dinner.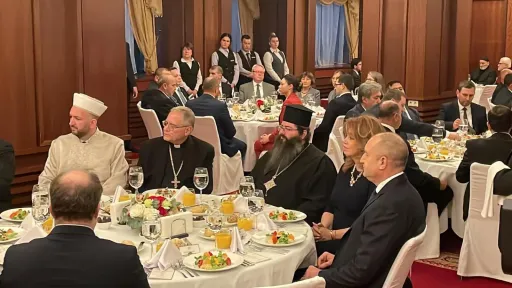 President of Bulgaria Rumen Radev hosted the traditional iftar dinner organized by Muslims every year on the occasion of the holy month of Ramadan on March 29.
In his speech at the fast-breaking dinner, President Radev said, "More than ever, we need foresight and wisdom to successfully build our common home and make it more and more a place of peace and mutual understanding in these test days when all humanity is going through difficulties."
According to the news published in Kırcaalihaber, representatives of religious communities in Bulgaria, representatives of diplomatic missions, managers of state institutions, prominent people, veterans working in the fields of spirituality, culture, education, and science attended the iftar dinner.
In his speech, Radev pointed out that the traditional iftar meal was established as an institutional sign of respect for the traditions and beliefs of the Muslim community in Bulgaria. "The blessed month of Ramadan for Muslims is a time when believers act with a lofty aim towards raising their spirituality and awakening compassion and human love in their souls," the President said. He called for the month of Ramadan to be an opportunity to awaken empathy and compassion.
Radev touched upon the role of spiritual leaders in Bulgaria, who, through invaluable personal examples, actively contribute to an open and dignified dialogue between religions in Bulgaria. "As President, I will continue to share the holidays of all our compatriots, to remind us of the historical traditions that unite our people, and to promote goodwill between the different communities in Bulgaria," the President said. Radev wished health and well-being to all Muslims in Bulgaria, their families and relatives.
Chief Mufti of Bulgaria emphasizing that aid is not always material, and happiness does not derive only from financial success, Mustafa Haji called for more humanity and mutual assistance.
The Chief Mufti thanked the President for his respect for the Muslim community in Bulgaria and said, "Tonight's iftar dinner is an indication that you have brought all Bulgarian citizens together, regardless of religion or ethnicity."